 Souvenir Photo Solution for UEFA in Berlin
---
Image Insight were called upon to provide a total solution for UEFA for the Champions League Final, in Berlin, in June 2015. This was the final match in Europe's premier club football tournament. UEFA had created a superb fan experience zone which was held around the Brandenberg Gate in Germany.
We were chosen as UEFA needed a system which could handle large quantities of visitors quickly, efficiently and reliably, whilst still providing a great guest experience.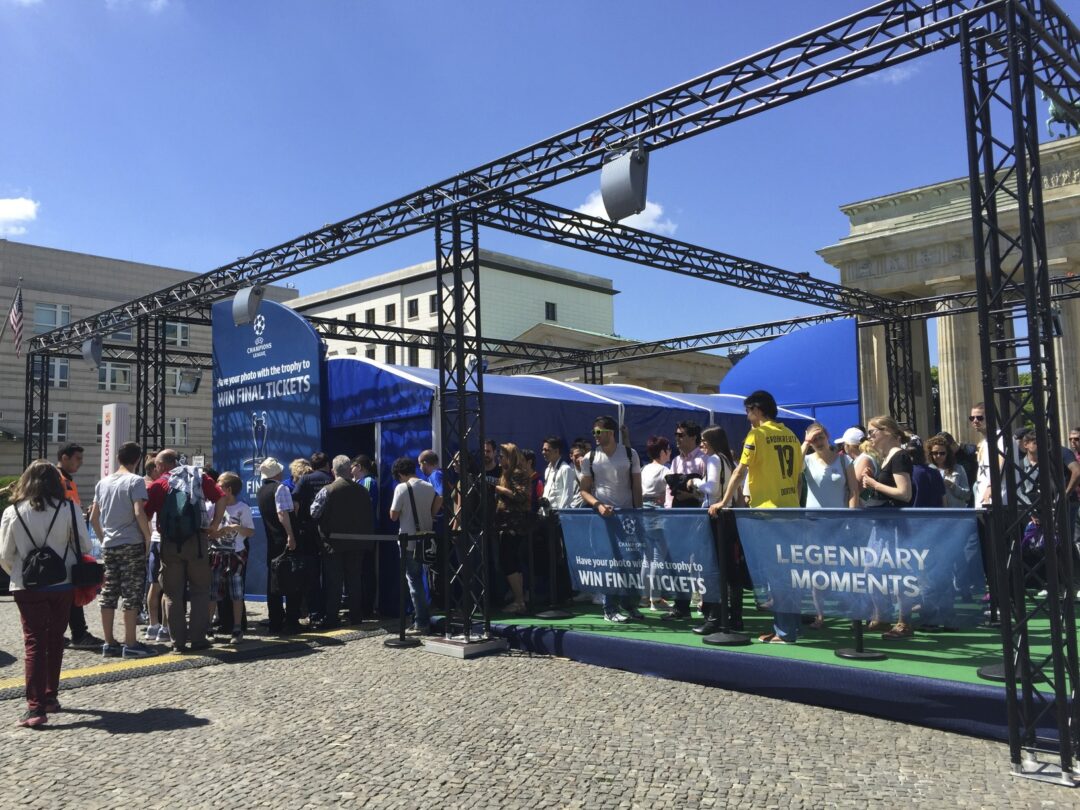 Because of the large volume of visitors, it was essential that we work creatively to make the best use of our resources. Guests were to have their photos taken with the real Champions League Trophy, which was available for us to use during the event. But, having only one trophy could have placed significant limits on our efficiency. So, we designed our installation such that there were two adjoining studios, with a dividing wall between them. We fitted a plinth for the trophy in this wall. Then, using two cameras, one in each studio, we were able to take two photos at once, despite there being only one cup! Of course, this doubled the frequency at which we could photograph visitors, maximising efficiency.
Photo fulfilment took place online via a specially built UEFA micro-site, which we designed in accordance with their brand guidelines.
Within seconds of having a photo taken, a guest was issued with a printed receipt. This included the secure, digital, photo number, enabling guests to obtain a digital soft copy of their photos (from the micro-site) and share them almost instantly to social media, email them to friends and/or download them to their device.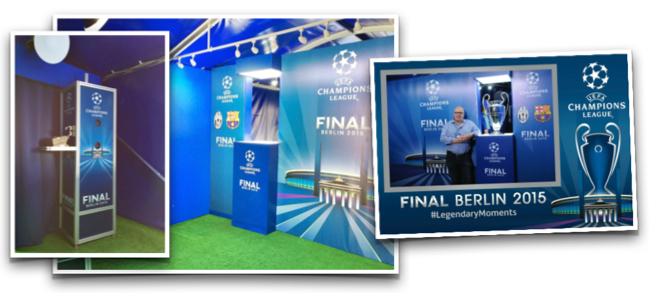 In order to maximise the data opportunities, we built an online form into the system which guests had to complete before downloading their photos. Built into this system was the chance for guests to win Cup Final tickets and the option to receive ongoing newsletters. In this way, data capture can be extremely useful for our clients for long-term customer relations and marketing purposes.
At UEFA, we photographed approximately 20,000 people in 2.5 days!
That's 1 photo every 15 seconds!
News Articles