Photo Download – Digital Image Delivery
There is a great demand by the public for access to the digital images of their photographs. People love to show their photos to friends and family, either on their mobile device or by sharing them electronically through social media and email.
Visitors uploading their images to their social media page provides fantastic free of charge marketing for the attraction.
With all this in mind, we have developed a unique way of integrating online imagery with social media.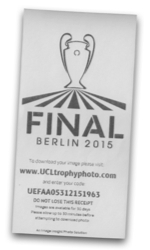 Instead of providing soft copies (digital copies) of images via CD, email or USB drive, we deliver the photo to the visitor using our state-of-the-art, photo download solution, via an instantly printed receipt. This receipt is custom printed with the attraction's details, a microsite web address and a unique photo redemption number that is tagged to the visitor's image.
This significantly reduces the waiting time for visitors at the photo counter and avoids the potential mistakes of recording email addresses incorrectly that could cause complaints from the visitors. It also removes costly USB devices which could have security implications and is time consuming.
From there, we provide a one-click solution where visitors can download, email or immediately upload their image to their Facebook and Twitter page.
How it works:
The guest visits a branded website (microsite)
The guest visits a specially designed and branded micro website, provided by us but linked from your website (or direct if required.) They enter their unique code and this then gives access to all their photos using just one code.
Data Capture
Should you wish to capture guests' personal details before allowing photo redemption, this is possible by using VEGA's optional data capture facility. Using this, all data can be accessed by you, the client, in real time. The data is yours to do with as you please, subject to the usual regulations, of course. This powerful data capture facility can be customised according to your requirements and data can be exported by you in a number of formats for easy inclusion into your systems.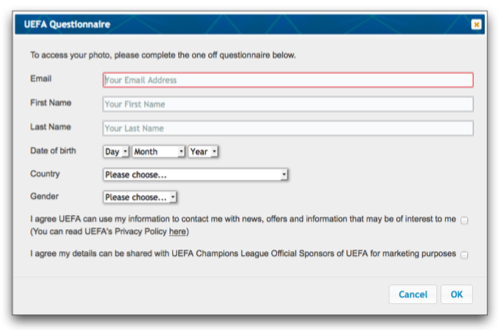 Download, Share or Email
Once the guest enters their unique code, they then have access to their photos to download or share via Facebook, Twitter (others are available) or Email.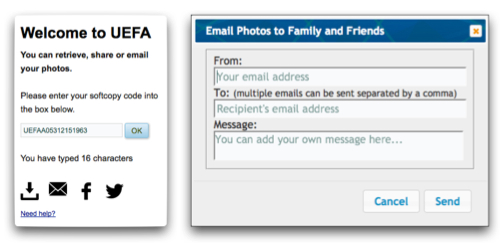 Sharing Photos via Social Media
VEGA soft copies integrate automatically with Facebook and Twitter.
A themed overlay can be added on top of the visitor's image to further promote your attraction or to advertise special events.
Text is added below the image advising where and when the photo was taken. This includes the name of your attraction.