Image Insight have been providing the Photo Solution at the Natural History Museum Ice Rink since 2017. Ice Rinks are very popular because they are so much fun, regardless of your experience on the ice you are sure to have a great time. What better way to remember that great experience than with a photographic memory of the event.
It is of course very difficult for guests to take their own photos at an Ice Rink and this is where our solutions comes into it's own. Ice Rinks also provide an ideal opportunity for an additional revenue stream through photography.
We, at Image Insight, with our experience in this type of opportunity are ideal partners to ensure that the guest gets a lovely memory of their visit and revenues are maximised through the use of our proven and reliable solutions.
We can offer a staffed or no-staffed model depending upon your requirements and full training and support as well as providing all the equipment, software and technical resources needed in this challenging environment.
Green Screen solutions work well in these environments as the multiple backgrounds allow for a number of exciting, interesting and fun photos. This automatically leads to increased revenues. We can also provide a self service solution where guests can take their own photos using our automatic solution as seen below.
We also provide our solution for many other Christmas experiences, often replacing inferior systems and always maximising revenues.
We are able to provide a Temporary Photographic Solution for your event anywhere throughout the UK, Europe or even Worldwide!
And, as with all of our solutions, we can offer a variety of photo sizes, different photo products and even a Digital Image Delivery option.
It is also possible to integrate our automated instant green screen solution which, like all of our solutions, can be operated easily by any staff member. Moreover, Green Screen Photography allows your guests to be part of a magical experience – perfect for Christmas time!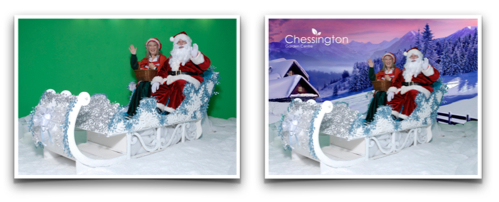 If you currently use our photographic solution, then it is possible to change the images produced remotely and we are able to provide the photographic skills to enable you to do this quickly and easily.
A large number of our sites produce themed images throughout the year (Easter, Halloween, Christmas etc.) This has the distinct advantage of increasing revenues by providing the customer with that unique experience.