 Souvenir Photo Solution for UEFA in Milan
---
UEFA's Champions League is one of the most prestigious football tournaments in the world. Premier division clubs from all over Europe compete for the trophy which, this year, was won by Real Madrid, on penalties against Atletico Madrid at the San Siro Stadium in Milan. Surrounding this tournament is a huge, 4 day festival with a full and colourful programme of music, football and big-screen entertainment for fans and locals. And, it was here, in central Milan, under the significant gaze of Milan Cathedral (Duomo di Milano), the most iconic building in Milan, that Image Insight installed their souvenir photo solution for UEFA and photographed an estimated 18,000 people in 4 days!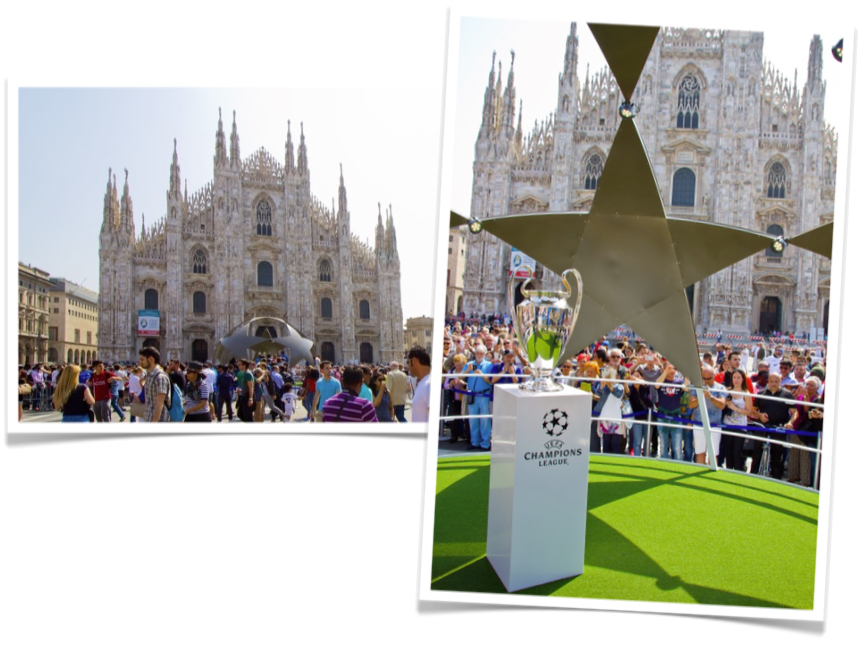 Although our photo solution was similar behind-the-scenes to last year's festival in Berlin, the studio setting was very different, presenting a number of unique challenges.
Our photo studio for this event was a UEFA-themed, starred dome in the busy centre of Milan which was created to be a visitor attraction and photo opportunity in its own right. By attracting visitors who wanted to photograph it, UEFA were able to maximise their marketing opportunities through social media and online sharing. So, it was really important that we were able to work well within this space whilst also keeping it clear and free from extraneous equipment. As we always use premium, photography equipment which needs to be protected, this presented a special challenge, especially as the dome was open to the elements. Our photo installation had to be entirely secure and weather-proof, able to withstand a variety of rain, wind, heat and lighting conditions, whilst always producing high quality photos at speed. In the event, we used specially made, themed, small, storage boxes to hide the cameras (no room for our camera hides here!) and hid our servers and cables well out of view. Of course, we also provided full technical support, overseeing the daily operation and taking every care to ensure that our client's and guests' needs were met completely.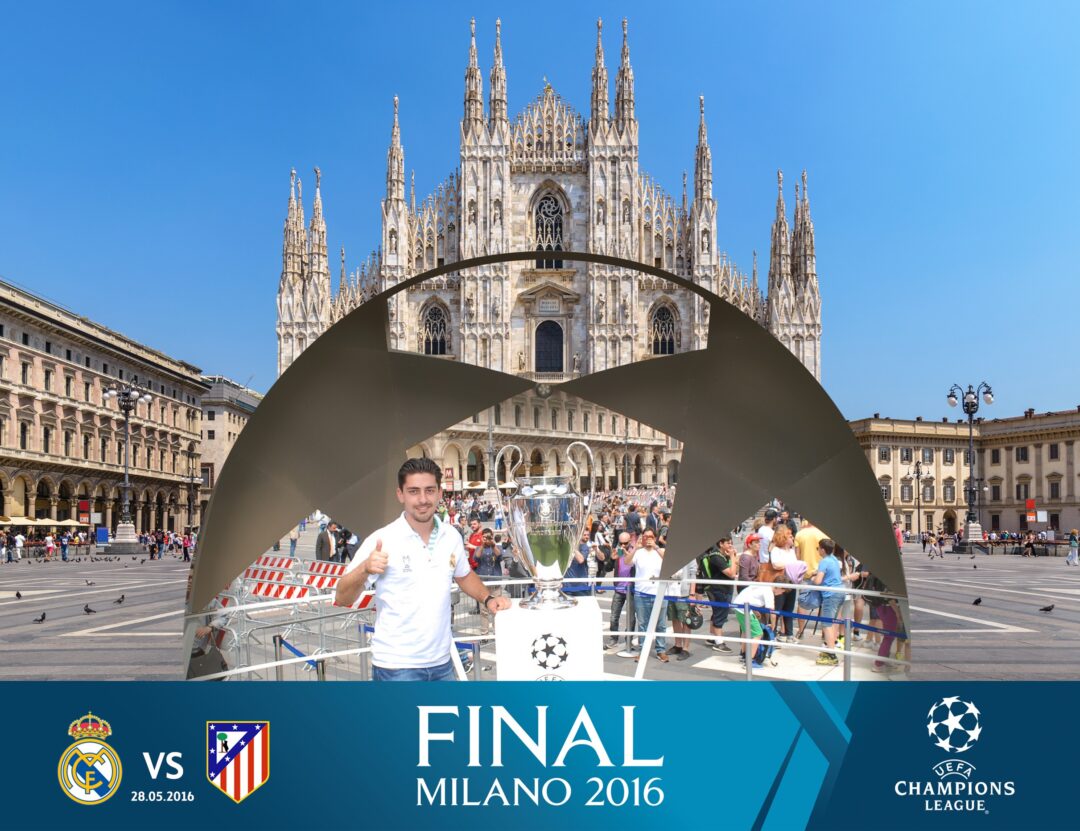 Given the location of the festival and our photo studio, it made absolute sense to include Milan's iconic cathedral in the resulting photos. Milan Cathedral is one of the tallest buildings in Milan, the second largest church in Italy (after St Peter's Basilica in Rome) and importantly, the most popular visitor attraction in Milan according to TripAdvisor. So, we used a photo overlay to merge guest photos with a background photo of the cathedral and included a foreground with UEFA's branding. The trophy was actually only available for photos during the first three days of the festival so, on the last day, fans were photographed with signed club shirts and the winning match ball. In this way, all guests could be treated to a fabulous souvenir of their time at the festival, which they would be almost guaranteed to want to share online, promoting UEFA's brand to the max.
News Articles