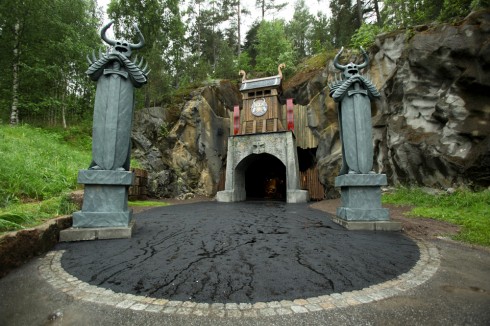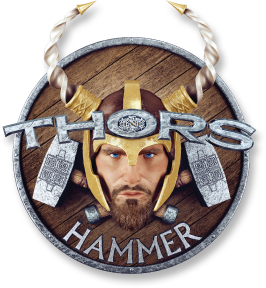 Photo solution for Tusenfryd – Thor's Hammer
---
In 2013, we installed a souvenir photography system in Norway's largest theme park, on their new dark ride, "Thor's Hammer".
Thor's Hammer is an incredible, motion simulator-based, dark ride that tells the story of the theft of Thor's Hammer and calls upon the visitors to reclaim it. Set at the time of the Norse Gods, Thor's hammer (known as Mjolner) has been stolen by the evil God, Loki. Riders are sent on a mission to catch Loki and recover the hammer. Travelling through a forest, river, cave, castle and the battle of Ragnarok, riders will encounter scenes of Loki as a wolf, a sea serpent and a dragon.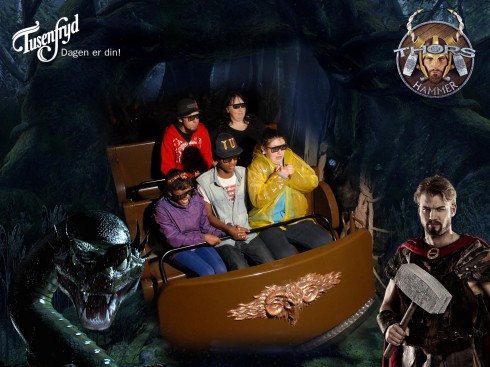 Code-named Project Mjolner, the new, four-minute, dark ride features interactive elements, fire and wind special effects and 3D computer-generated imagery projected onto 10 movie screens. It also has the latest, trackless, motion simulator cars, which have 360-degree rotation and can tilt in all directions, adding an amazing, 4D experience to the ride.
"The attraction is packed with the latest in 4D technology, which helps to create an experience that trembles with excitement. We have great expectations that Thor's Hammer will be a big crowd magnet."
Thors Hammer is completely indoors, within a cave, and has a capacity of 800-1000 guests per hour. It was built by Dutch design firm, P&P Projects, who describe it as an "action movie brought to life" and draw comparisons with the Amazing Adventures of Spider-Man at Universal's Islands of Adventure theme park in Orlando, Florida.
As you might imagine, all this creates some interesting photo opportunities!
TusenFryd is a classical amusement park, with roller coasters, carousels, games and entertainment. Amongst the rides are the great roller coasters like the wooden ThunderCoaster (950 meters long with a top speed of 100 km/h – voted the 5th best roller coaster in Europe with riders weightless 12 times during the ride), SpeedMonster (0–90 km/h in 2 sec, 6.000 hp) and the water coaster SuperSplash. There is a designated children's area, Barnas Fryd, and a pool area, BadeFryd and in 2010 they introduced Nightmare. This is a 5D attraction with 3D cinema, sound, light and other effects plus interactivity, allowing guests to be involved in the ride.
News Articles