Photo Solution For Nikon
We were commissioned to provide a temporary photographic solution to promote the release of a new camera model by Nikon. It was necessary for the solution to be transportable between sites as it was going to be set up in multiple shopping centre locations throughout the UK over a period of a month, starting at the Trafford Centre in Manchester.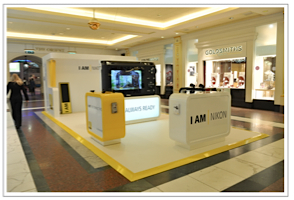 An important factor of these temporary installations was that they needed to be accessible and to allow for a hands-on approach by visitors. People were welcome to have a look at the many cameras on display and also to have their photo taken with a giant camera. This was actually a dummy camera, and a great novelty which attracted much attention. The real camera was simply hidden within the dummy lens, whilst live images were shown on the display screen at the back, making it seem like a fully functioning camera.
Visitors who had their photo taken were given props and encouraged to write on a chalkboard to complete Nikon's tag line of "I Am…". This gave them a very personal experience and added a significant element of entertainment to the installation.
A criterion of the installation was that the photos would be printed instantly on-site – we turned to Mitsubishi D70DW printers to meet this demand. The overall design and small footprint of the D70s, combined with their speed and the quality of their prints, suited the solution perfectly. Visitors were able to interact fully with the stand and to take a memento away with them instantly, therefore increasing the chance of unintentional promotion.
We provided another, similar, temporary installation for Nikon at The Photography Show – please click here to read more.