Souvenir Photography at Aquariums
Aquariums are an ideal location for a souvenir photography solution as it is very difficult for guests to take their own photos due to the nature of the attraction.
Green Screen solutions work well in these environments as the multiple backgrounds allow for a number of exciting, interesting and fun photos. This automatically leads to increased revenues.
The images are produced quickly and automatically by our green screen chroma key system and are ready for the guest to choose and buy instantly.
Unlike other, older systems, there is no user intervention needed to produce the images, which is labour intensive and slows down the guest experience, resulting in lost sales.
We do not use any Flash Systems within an Aquarium setting as this
can distress the marine life. All our solutions use constant lighting.

Sample Souvenir Images from one of our Client's Sites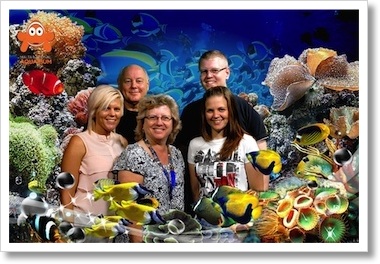 Some of our aquarium customers include:
Malta National Aquarium
Bournemouth Aquarium