Since taking over, and installing our unique photo solution at the SEA LIFE Hunstanton Norfolk, in 2015, Image Insight and Merlin Entertainments have enjoyed a mutually beneficial partnership. So when offered the opportunity to install at both Paris, and Benalmádena, Andalusia in Spain, our Managing Director, Stuart Morley was keen to add to the portfolio and truly cement this great relationship.
SEA LIFE is the world's biggest aquarium brand and there are many venues across the UK and Europe, as well as North America and the Asia Pacific region. All are conceived around the notion of "Amazing Discoveries", and are home to a variety of sea creatures from shrimps and starfish to seahorses, rays, sharks and seals.
SEA LIFE Paris
New for 2017, Merlin opened its 'Antarctic Adventure'- an interactive and immersive journey to discover the secret lives of their Gentoo penguins. With conservation and education in mind, the climatic conditions and atmospheres within this 350m² area, are created to immerse the public in the natural habitat of penguins: there's real ice! SEA LIFE Paris has recently announced that from September 2017, joining the Gentoo Penguins are the wonderful and legendary King Penguins, standing a statuesque 90cm tall.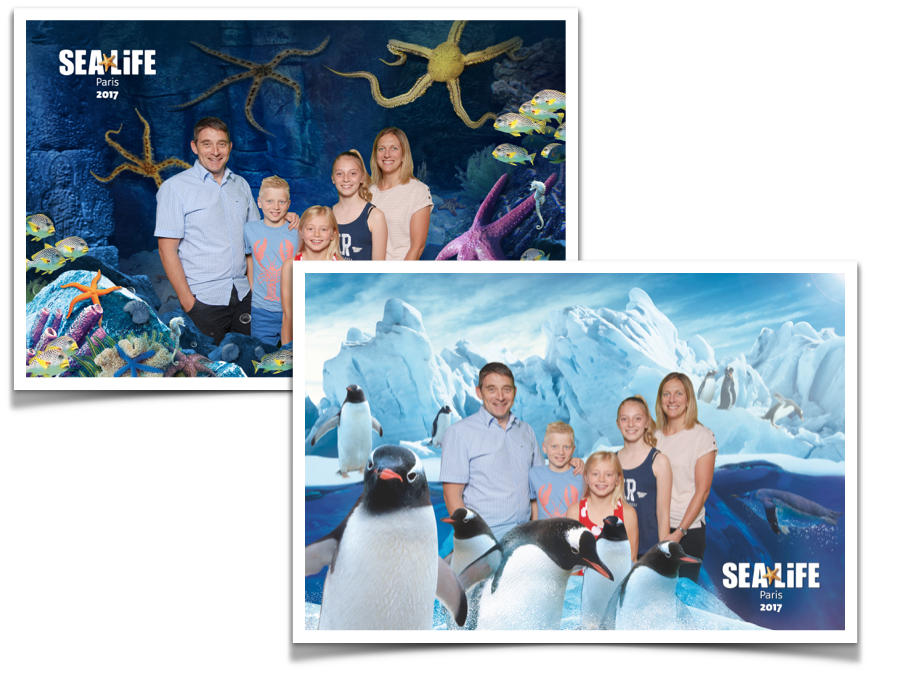 With this much innovation going on, Image Insight needed to ensure that we took advantage; so we created a complete and unique 'green screen' solution that guarantees fantastic images, with a chosen creature, every time – there's no worries that the penguins or turtles are going to be camera shy, or perhaps the visitor wants that 'scared photo' with a shark, jaws spread wide, about to bite!"Merlin are always delighted to work with Image Insight, and I have, yet again, been extremely pleased with the positive impact their solution has made to our site.  They have delivered a professional, reliable & first class solution, incorporating not only the photographic equipment, but also training, technical and operational support.

Already we have experienced Image Insight's flexibility to react quickly to changes, and be proactive in moving the operation forward.  Their innovative technology has given us a simple, no nonsense, unique solution, tailored specifically to our needs, which allows us to concentrate on what we do best." Anja, Group Photography Relationship Manager- Europe, Merlin
During the opening weekend, our statistics indicate that we dramatically increased revenue, against expectations.
SEA LIFE Benalmádena
Meanwhile in Spain, as well as day-to-day life in the seas, Merlin have invested in the wondrous 'Jurassic Oceans' experience: Visitors will travel back 150 million years to discover the era of the Plesiosaur and giant Megalodon.
With this opportunity, Image Insight was able to create some stunning overlays: The Plesiosaur fast approaching with jaws wide and teeth bared; the visitor petrified. Alternatively, the guest may prefer the still awesome Blacktip Reef Shark, or maybe the fantastic Turtles.
"I have to say it has been a pleasure for me and for the rest of the team, to meet you both. Thank you very much for your "super" training, you are excellent professionals!" Maria Morondo, Marketing Manager, SEA LIFEImage Insight operates either a client-staffed or employee-supplied and managed model, but we have also developed a number of alternative solutions including our self-service kiosk, where the visitor activates the camera and green screen solution, themselves.
Our relationship with Merlin is one of excellence – following 4 mystery shopper visits, we are proud that our staff at our Hunstanton operation, have a fantastic 100% record.
Image Insight's proposition includes full technical and operational support, commencing with an initial consultation. Our technical experts bring their experience, knowledge and design capability to the forefront by working on the best solution for the client, thereby providing absolute confidence and satisfaction before, and throughout our partnership. We are also on hand for any on-site training for staff with both classroom and practical training available.
NEWSFLASH: We are excited to announce that following our success with Merlin we expect to announce more venues around Europe soon! Read more about what is happening with Merlin and Image Insight and read our news page.