Liverpool FC Retail Store
Liverpool Football Club is one of the UK's premier football teams and their Retail Store in Liverpool One is the biggest official club store in Europe. The store opened in May 2008 within Liverpool One, which is a shopping, residential and leisure complex which boasts over 160 stores.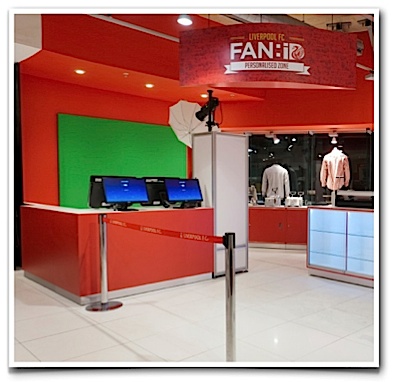 The Liverpool FC Superstore consists of more than 10,000 square feet of selling space, filled with official Liverpool FC merchandise and products. The ground floor boasts an architectural showpiece in the form of a spiral staircase sweeping up to the first floor.
We were tasked with providing a state-of-the-art photo opportunity to allow visitors to engage with the club and provide high quality photographic souvenirs in a matter of seconds.
By using Chromakey or "Green Screen" technology, we can provide visitors with photos that they would not be able to achieve themselves, with a wide selection of backgrounds to choose from, that are then produced instantly using our powerful photo solution.
As well as providing instant, personalised photos, our photo solution also has the ability to provide a simple, digital, download facility or "softcopy". This enables the customer to download electronic copies of the images they have purchased at home and ensures the sales process in the store is quick and efficient. It is also possible for the system to share images via social media such as Facebook, Twitter and email.