Christmas Grotto Solutions
We, at Image Insight, understand what a special time of year Christmas is and how important it is to you to find a photographic solution which maximises both revenue and customer experience during the festive season.
We have many years experience providing a range of Christmas Grotto photo solutions at a variety of sites. And, our solutions have shown revenue increases anywhere from 45% to 100% and beyond, as well as vastly improving the workflow and overall customer experience.
Our Christmas experiences have included:
Lapland UK
Lapland UK in Berkshire is possibly Europe's largest Christmas Experience, with thousands of visitors each day throughout December.
Stockeld Park
This is a seasonal, magical woodland experience, located within a historic estate in rural Yorkshire. Stockeld Park has also seen the benefit of using our solution and revenues have increased significantly.
We also provide our solution for many other Christmas experiences, often replacing inferior systems and always maximising revenues.
We are able to provide a Temporary Photographic Solution for your event anywhere throughout the UK, Europe or even Worldwide!
And, as with all of our solutions, we can offer a variety of photo sizes, different photo products and even a Digital Image Delivery option.
It is also possible to integrate our automated instant green screen solution which, like all of our solutions, can be operated easily by any staff member. Moreover, Green Screen Photography allows your guests to be part of a magical experience – perfect for Christmas time!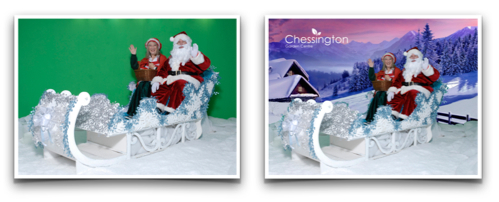 If you currently use our photographic solution, then it is possible to change the images produced remotely and we are able to provide the photographic skills to enable you to do this quickly and easily.
A large number of our sites produce themed images throughout the year (Easter, Halloween, Christmas etc.) This has the distinct advantage of increasing revenues by providing the customer with that unique experience.